Almost a year to the day after activating Mt Warrigal, I again sent my good friend Pascal VK2IHL an email saying "hey let's go SOTA". It seems we only get one good run at this a year!
A week later we were at the Kanangra Walls car park setting out for the summit of Mount Cloudmaker VK2/CT-015, an as yet unactivated 6 pointers in the NSW Blue Mountains.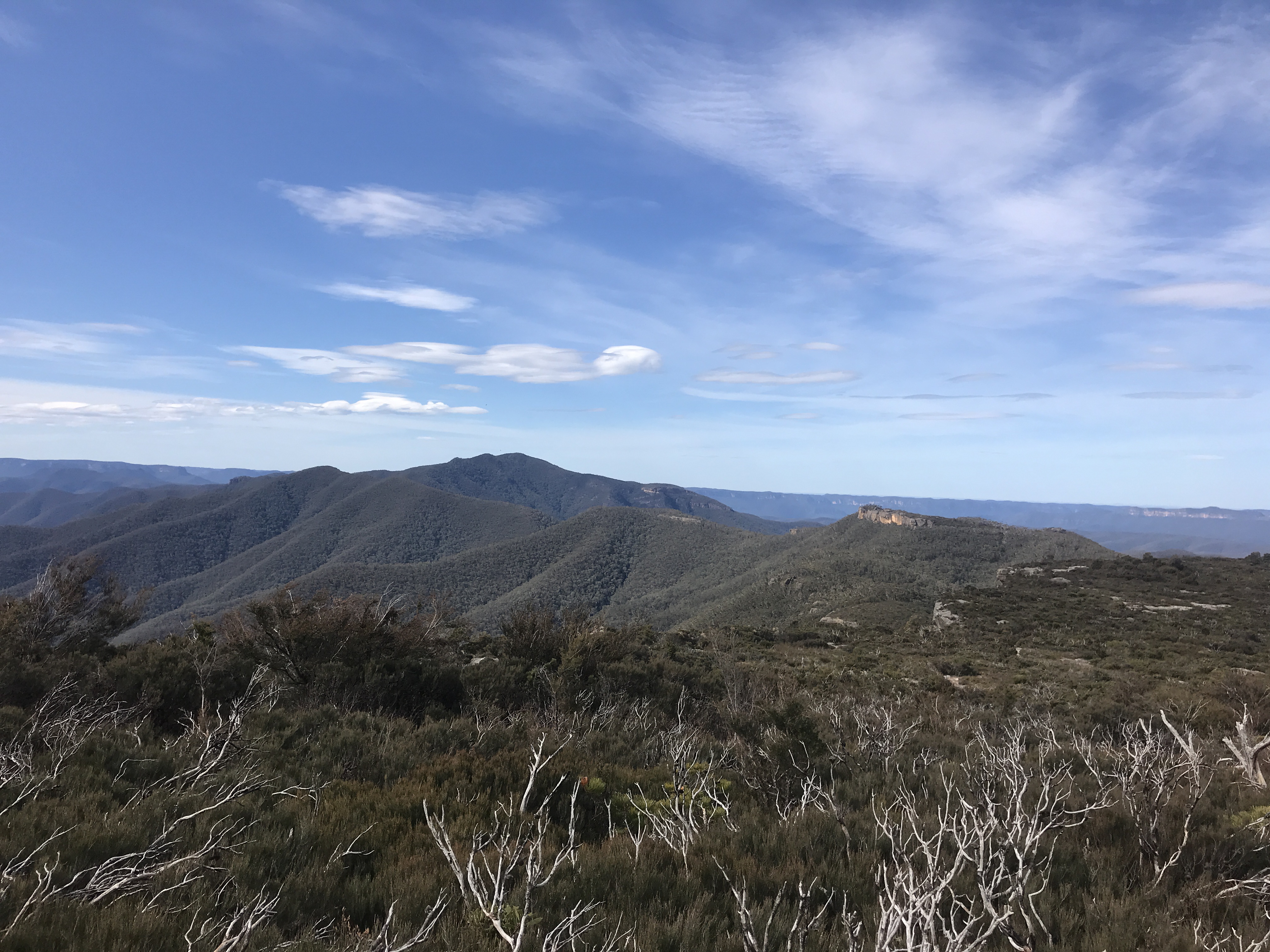 TLDR; We didn't make it! An extreme VKFF parks activation yes but no SOTA summit. Maybe next year?
Challenges
When we initially set of we knew it was going to be hot and heavy going with a lot of elevation change. However, as these things tend to do a few circumstances conspired against us activating.
Brennan tops scramble
It wasn't long until we found our first time sink for the day. I'm not entirely sure why but I had neglected to do any research on the specific route down from the Brennan Top to the Mount Cloudmaker track.
Long story short, as you drop down from the plateau just after the crevass is the scramble where it appears people are just dropping over the edge of the hill and the track appears to run out.
After a bit of overly cautious exploring with the handline, I found that this is indeed the way and actually the path is quite doable. In the end better to be safe then sorry when carrying a heavy SOTA pack but it did eat up 45 mins or so heading out.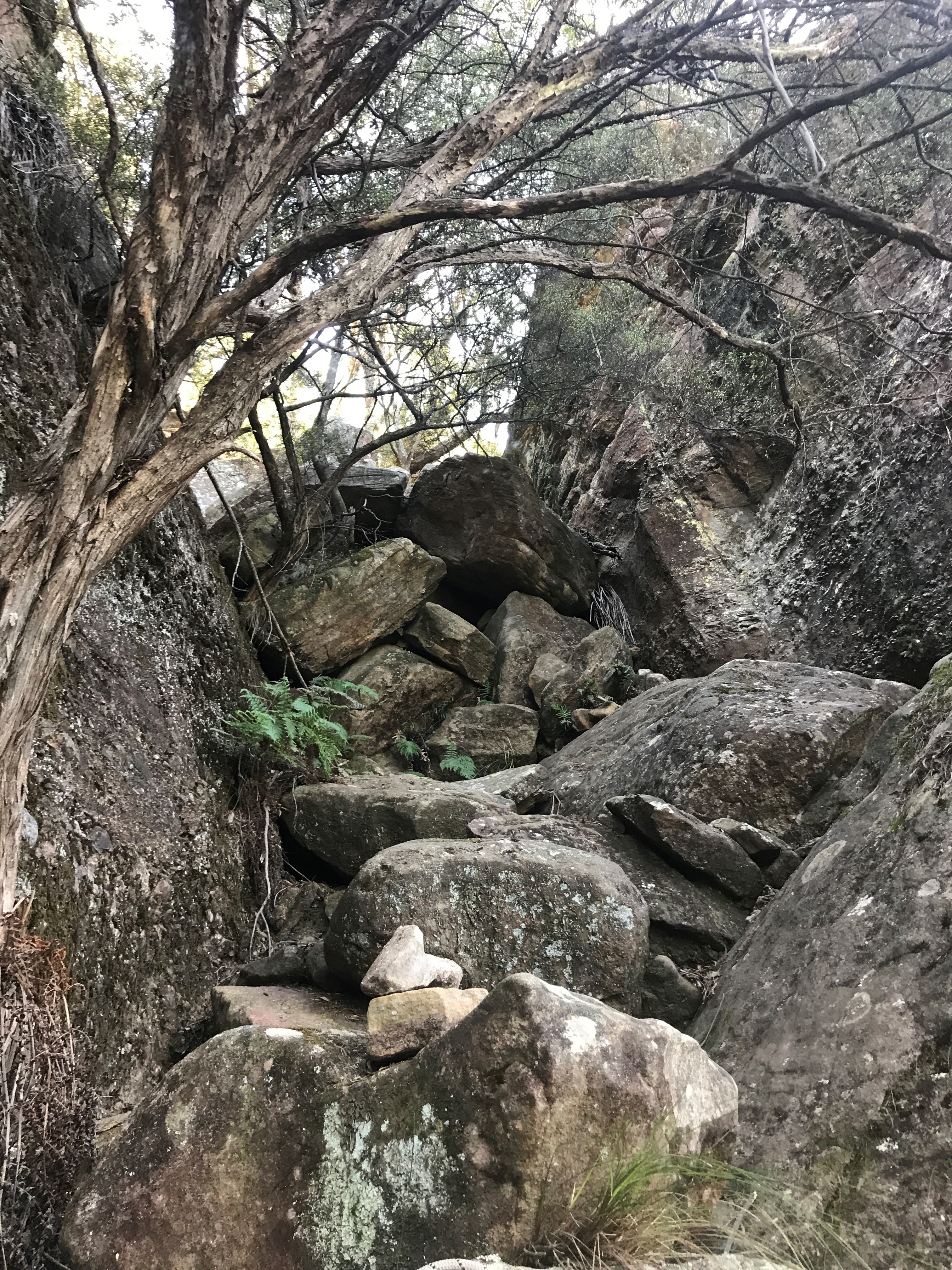 Tree damage at Mount Berry
Continuing on the theme of delays, as we went we did encounter a few down trees from recent(ish) storm damage.
One of the crtical junctions though is the hop up onto the top path at Mount Berry. This was fairly obscured because a weighty gum had tumbled down the rocky gap.
On the topo maps the track leads east of the summit high point but as we found later I lead us way to far east.
I recommend avoiding our blue track and taking the summit route (green return track) next time unless you enjoy contouring on scree!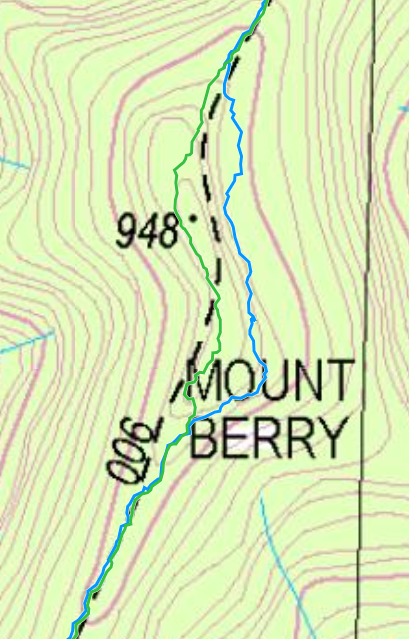 Returning to Crafts Wall
While I am listing all the shameful navigational mistakes I might as well impart my last bit of wisdom for this neck of the woods.
On the way out before Mount Berry you might miss the little pagoda after Crafts Wall. As it turns out the track actually drops you down into the pass with this feature on your left.
But coming back tired and dehydrated I found the first big wall of rock and though "crafts wall, go along the right hand face". Alas we again were contouring in steep, less than idilic bush.
In this case the track you want is our blue Saturday morning track. The green trip is an "adventure".
But the cave at the base of the wall does make an absolutely knock out view and the cool smooth rock where many a bushwalker has sat previously to take a breather was very much appreciated!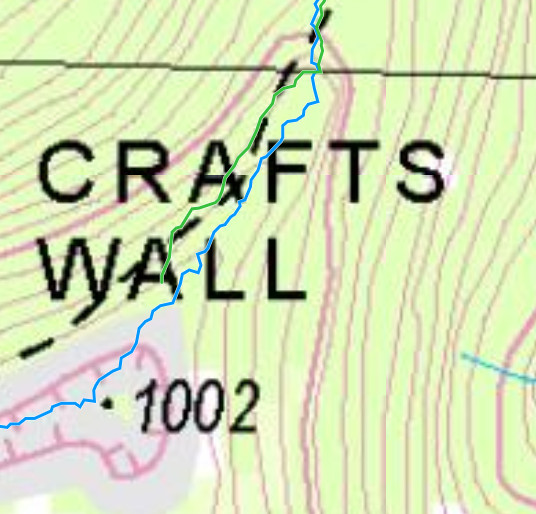 Aborting the attempt
In the end I called it at the campsite between Roar Knoll and Rumble Knoll.
This was less than 500m from Mount Cloudmaker summit but with dying light at 16:30, ~300m of elevation and only a liter of water for the return journey it just wasn't worth pushing on to risk something going wrong in the dark.
Water wise, the Ti Willa Gorge was reported dry the weekend prior. This made pushing over to 100 man cave fairly unappealing so we made a plan to return home as early as possible to avoid the heat of the day without looking for water in the field.
Activating Kanagra-Boyd National Park VKFF-0256
Once we had made camp and rested up a bit Pascal and I figured we've carried radio gear way too far to not use it!
I also figured activators may not get out to Kanangra very often so we strung out Pascal's homebrew ZS6BKW antenna and setup my QMAC HF90. With the addition of a fixed LC tuner we had 80 meters booming in from Dural and it was time to call CQ!
In the log were;
VK3SQ
VK3PF
VK5LA
VK2IJS
VK5AYL
VK3ZPF
VK3MCK
VK3KYF
VK7ME
VK5WU
VK4CZ
VK5PL
VK3VEK
VK3FTHY

Thanks again to all the chasers for the company! Otherwise it was just the massive possums in the moonlight!
I'll leave you with a Google Earth tour of our GPS track as we contemplate what things to shave off next year and how much extra water might be squeezed in!
73's
Sam