Ahoy!
It's been a while between blogs, but after a recent journey out activating SOTA summits with Pascal VK2IHL it's time to share our tales!
Our plan was simple, after looking at sotamaps.org a few weeks prior we decided there was far too many un-activated summits in Kanangra-Boyd National Park.
So, we set out on a Friday afternoon for Dunphy's campground and established camp a little before last light and just before the rain. Of course, I can't think of more appropriate wheels to be getting there in than the land cruiser!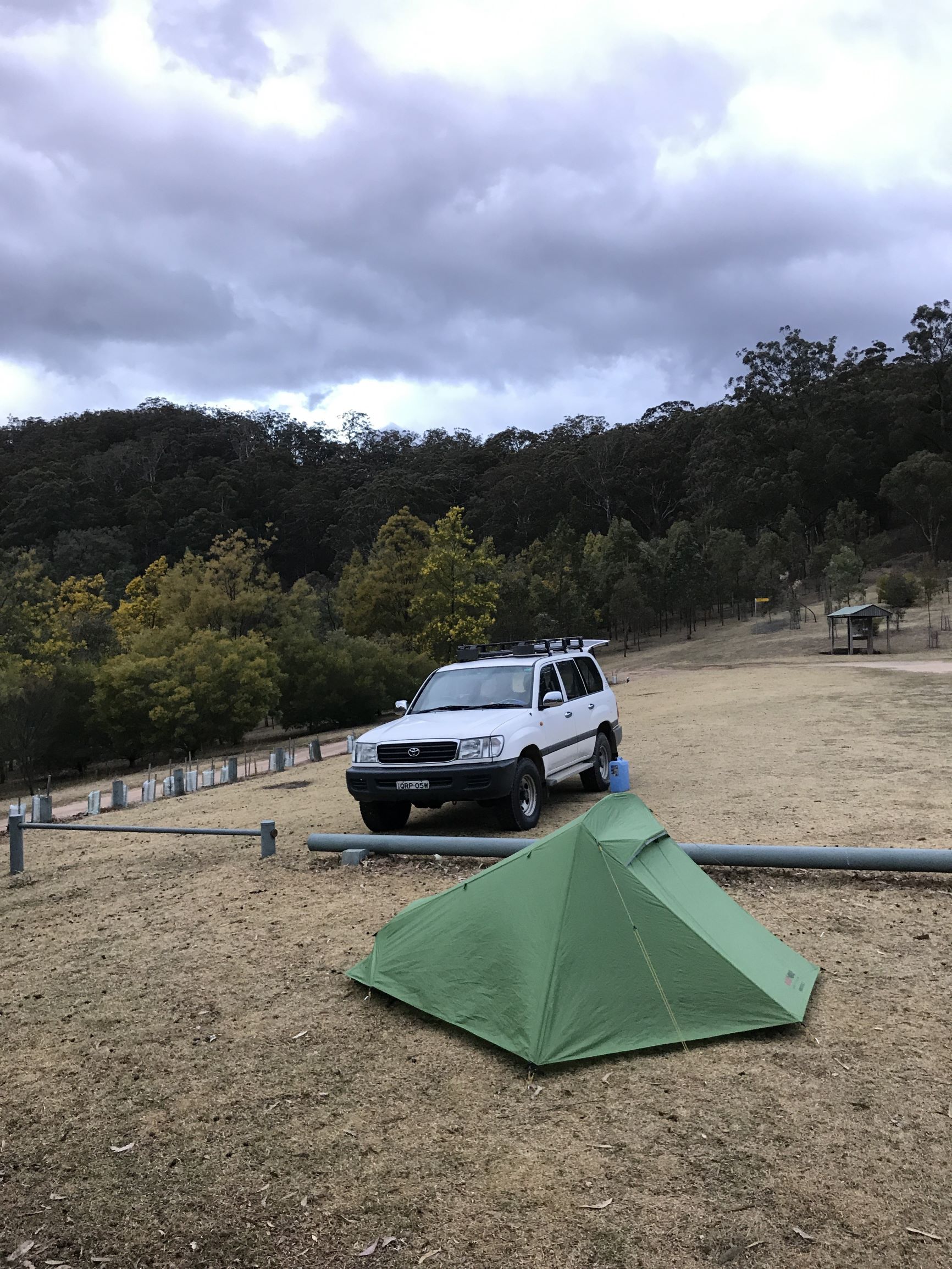 Planning
It was our first joint activation so I planned to take it easy initially and give us an option of aborting early if something wasn't working. So the plan was something like this;
Dunhpys to Ironpot Ridge
Ironpot Ridge to VK2/CT-080
Activate
VK2/CT-080 to Cattle Dog Ridge
Cattle Dog Ridge to Mobbs Swamp
Camp at Mobbs
Mobbs to Mount Warrigal VK2/CT-057
Activate
Mount Warrigal to Dunphys via Medlow Gap
Easy, peasy! Only 25km!
After a bit more planning and close inspection of the Strava Global Heatmap I realised those that Cattle Dog Ridge was an inferior choice, clearly there was a known track up Black Horse Ridge instead. Better yet, we could add a contingency plan to just bush bashing off-track straight south from Ironmonger Hill by instead detouring to Coxs River and east along Breakfast Creek to before ascending Black Horse.
With some rough routes planned and on the maps we were off!
Day 1 - VK2/CT-080 and Black Horse Ridge
We were up early and walked out of Dunphys by 0630 after having a light rain early Friday night. It's a nice day walk to VK2/CT-080, strangely a un-labeled, un-marked summit between the lower peaks of Ironmonger Hill and Ironpot Mountain along the ridge line. I'm always surprised how reluctant activators are to venture out to this little peak. It's paltry four points might be it!
Never the less, it didn't take us too long to make it up to the summit and get activating. I'd foolishly bought an untested antenna, a HyEndFed Ultralight 10-15-20-40 EFHW but neglected to bring the 10m of feedline needed and instead tried to use 1m. This appeared to result in some terrible conditions all around so we quickly moved back to the old faithful 20-30-40-80 linked dipole from SOTABeams. Also with conditions being marginal we stepped the 817 up to 30 watts via the P50M amplifier for our 80 meter contacts which were marginal in the NVIS paths.
We made our contacts quickly knowing that we had a long, long day of walking ahead of us.
22:42z	VK5CZ	7MHz	SSB	R41 S59
22:58z	VK3ANL	7MHz	SSB	R33 S54
23:00z	VK4SMA	7MHz	SSB	R55 S59
23:01z	VK4TJ	7MHz	SSB	R58 S59
23:09z	VK2HRX	3.5MHz	SSB	R33 S59
23:17z	VK2YW	3.5MHz	SSB	R57 S59
23:24z	VK2IO/M	3.5MHz	SSB	R36 S51

After a quick look over the cliff lines and drops around the ridge we quickly opted for our backup route down the spur to Coxs River. A brief rest, lunch and extra water picked up from the river before we turned east and started along the dry Breakfast creek bed. The only real highlight being an echidna trying to hide under a rock, a couple of startled beef stock and just towards the end two pig hunters on horse back maintaining the 1080 traps. Fortunately they told us a group of 8 had just come down the Black Horse Ridge track otherwise we may well have missed the track up out of the creek bed. So started Black Horse - boy what a hill! We climbed from 380 meters to 650 meters in 900 meters over a 90 minute effort. Personally I had the heavy pack with all the radio gear but Pascal was also lugging 4+ kilograms of water!
Needless to say, we established camp not much further along the ridge for the night having ticked off about 15.5Km of our journey.
Day 2 - Mobbs Swamp and Mount Warrigal VK2/CT-057
Day 1 burned more water than we liked and we quickly agreed the plan had to be visiting Mobbs Swamp for water at the spring before anything else otherwise abort back to the car. Sadly on arrival the only potentially spring fed water was well and truly black and wriggling.
Fortunately for us though, it had rained fairly solidly on Friday night filling a number of deep puddles around the spring in the rocks.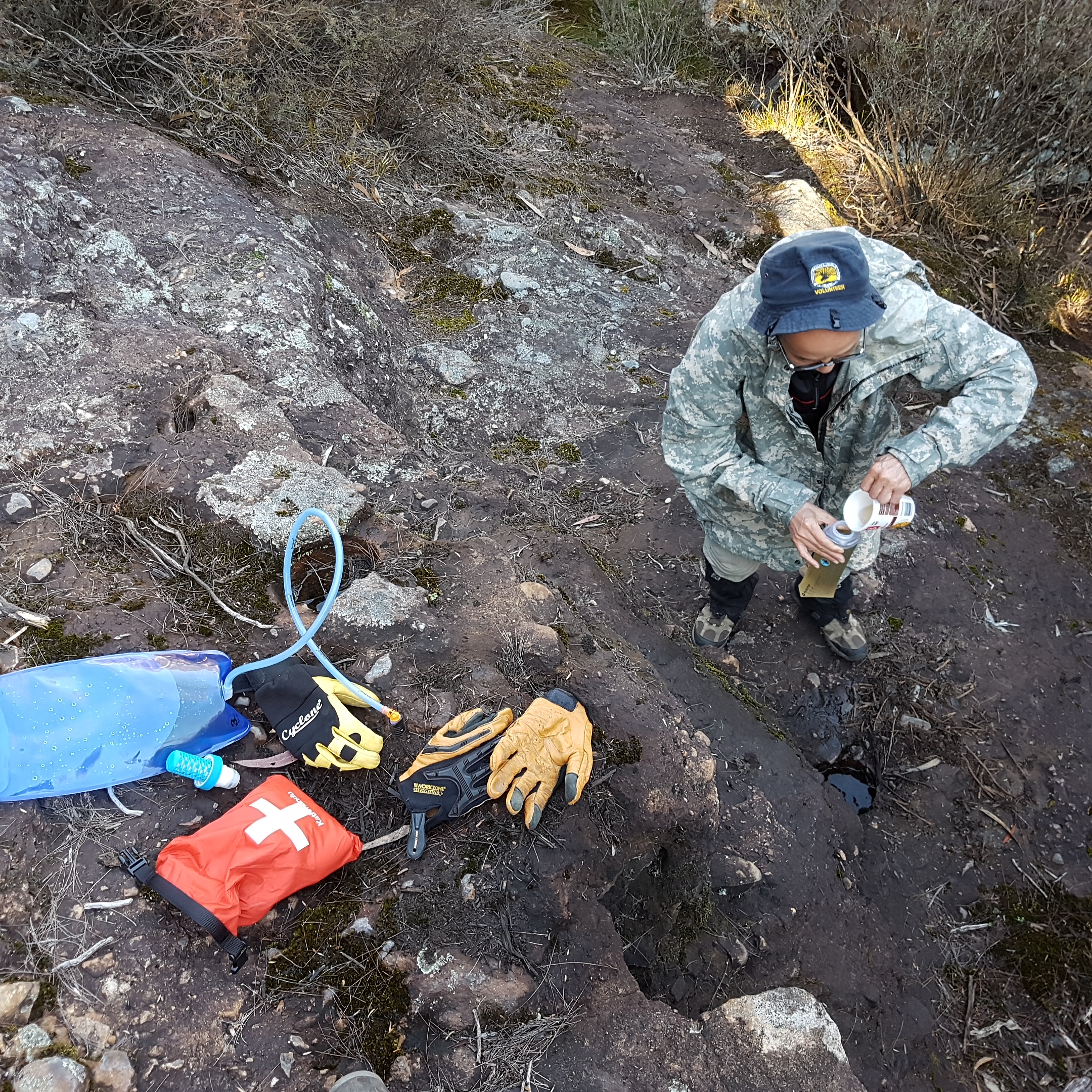 We managed to filter out a full three liters so it was time to take a crack at Mount Warrigal.
We ascended from the south western side with only 500 meters or so of scrub bashing from Mobbs up to the southern tip. The climbing up the hill was generally steeper than Black Horse with the extra fun of no established track what so ever. There was something marked on the map but we certainly never found it!
I had read some discussion talking about access via the south but there are some seriously vertical cliffs so we gave it a miss after a quick look. We continued around to the eastern face along Wombat Parade heading north-east. I had read Paul Ma's notes on an ascent point further along marked by a particularly prominent tree. You'll come across it near 4308 5228 and we quickly dumped our packs and took just the 817 and dipole up to the summit.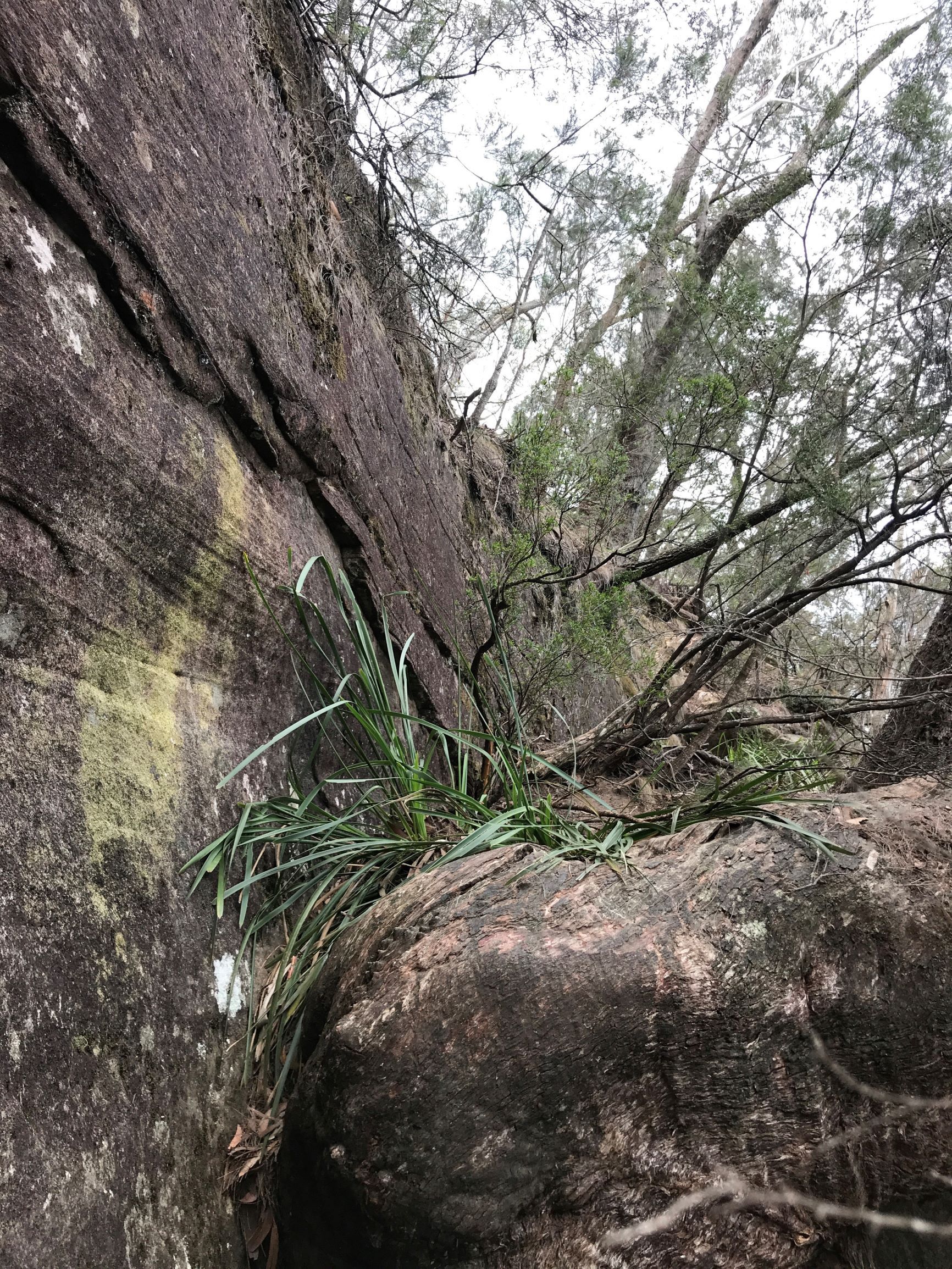 From the bottom looking up it's not too bad really and we bounded up quickly. Once you're up the climb, you'll be disappointed to know the activation zone is still a bit of a walk north. Needless to say when I say the altimeter tick up to 935 meters it was more than close enough for me!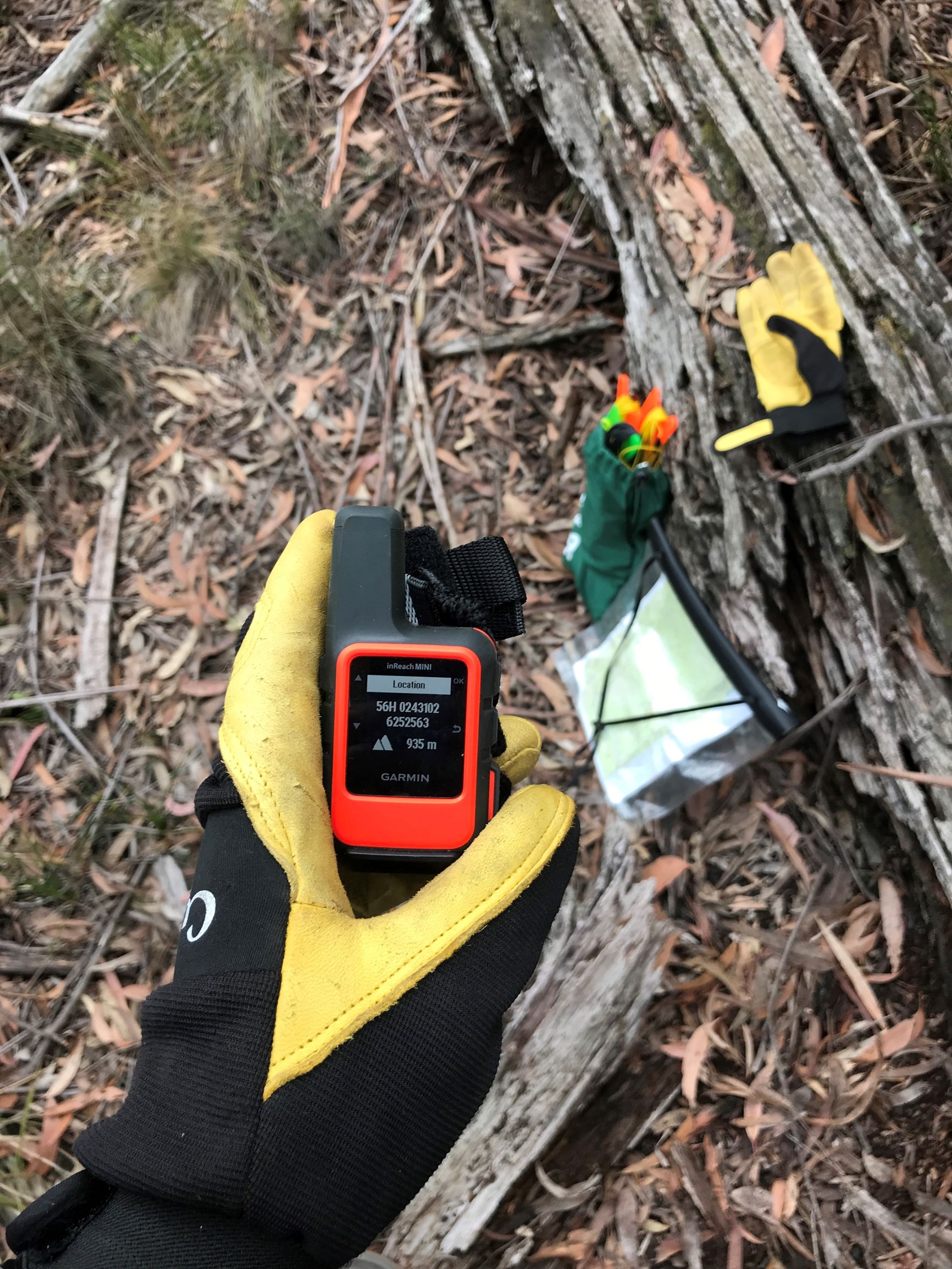 On the summit we quickly threw the brickies line into a tree and hoisted the dipole again. First up was a summit-to-summit contact with VK3GRA/P on VK3/VC-019 before we got a spot out. We didn't hang around too long with the long trek back to the car and it was to be for the best later.
01:07z	VK3GRA/P	7MHz	SSB	R49 S57 S2S
01:11z	VK3PF	7MHz	SSB	R54 S59
01:16z	VK2IO/P	7MHz	SSB	R43 S43 VKFF-1177
01:17z	VK4TJ	7MHz	SSB	R51 S56
01:19z	VK4CZ	7MHz	SSB	R52 S57
01:20z	VK3SQ	7MHz	SSB	R56 S57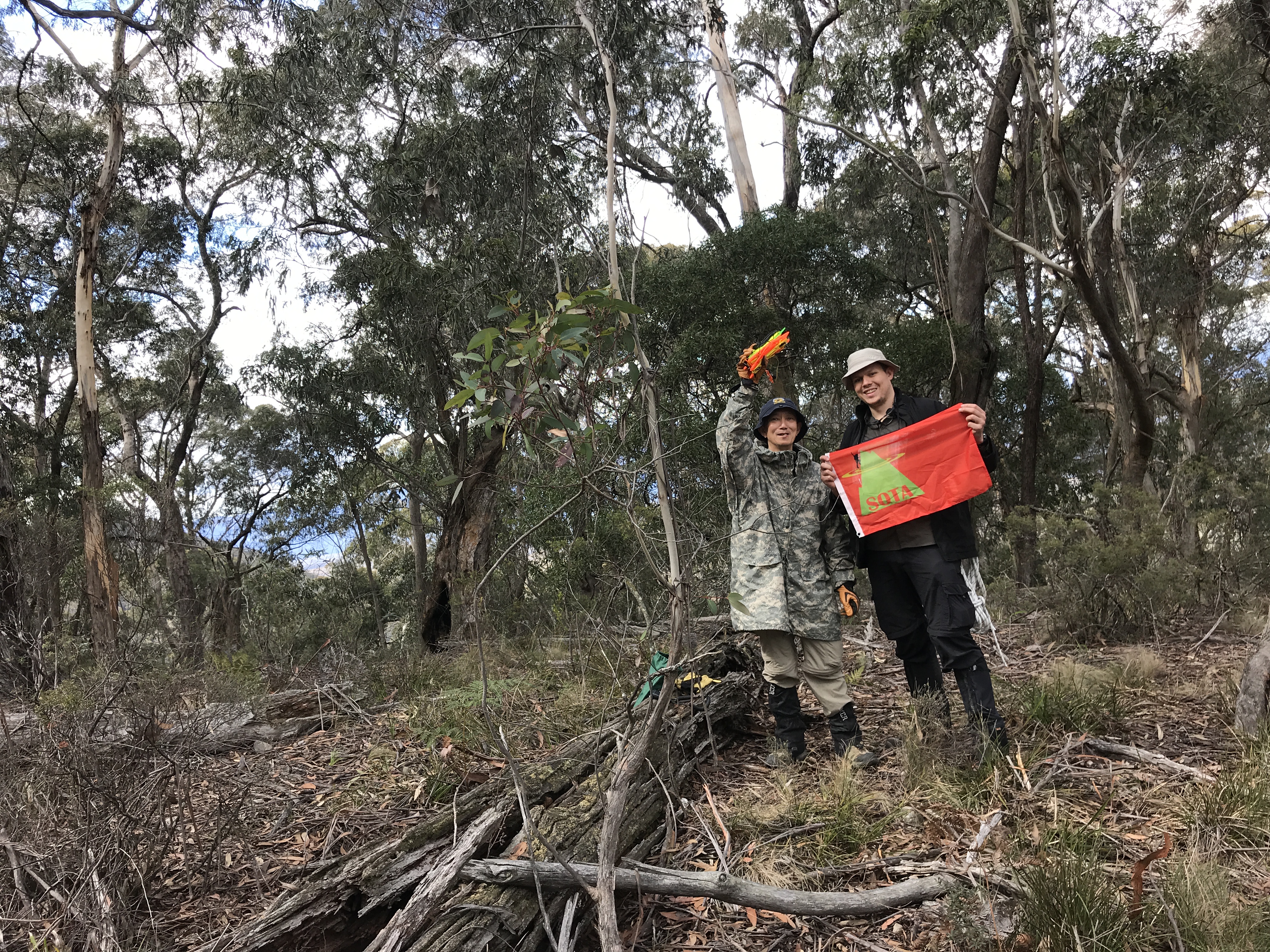 Done and dusted, it was time to get back down to our packs and have some lunch before the long walk home.
…
If we could find where we came up! In our excitement we'd neglected to actually mark the ascent and honestly the climb / scramble didn't feel that bad. Still, standing at the top of the cliffs looking down it was a different story!
I remembered a particularly prominent looking tree hollow and we eventually found a cain very near where our GPS tracks showed we had climbed up but it was one of those times you painfully learn some lessons
Your GPS tracks are never frequent enough.
If it's dodgy, mark your ascent with tape or something else you can follow and remove on the way back down.
Carry a handline! 10m is enough but 15m would be nice.
Always have your PLB on you, not in your pack.
After we sat and mused for a bit and I ate a spare muesli bar I'd stuffed in a pant pocket for later I built up the courage to adventure down past the cain to see what looked familiar. It was further down than I thought before we saw the track we had taken up the hill. I definitely was glad to have the handline out on the way back down. The trip up seemed far easier in retrospect!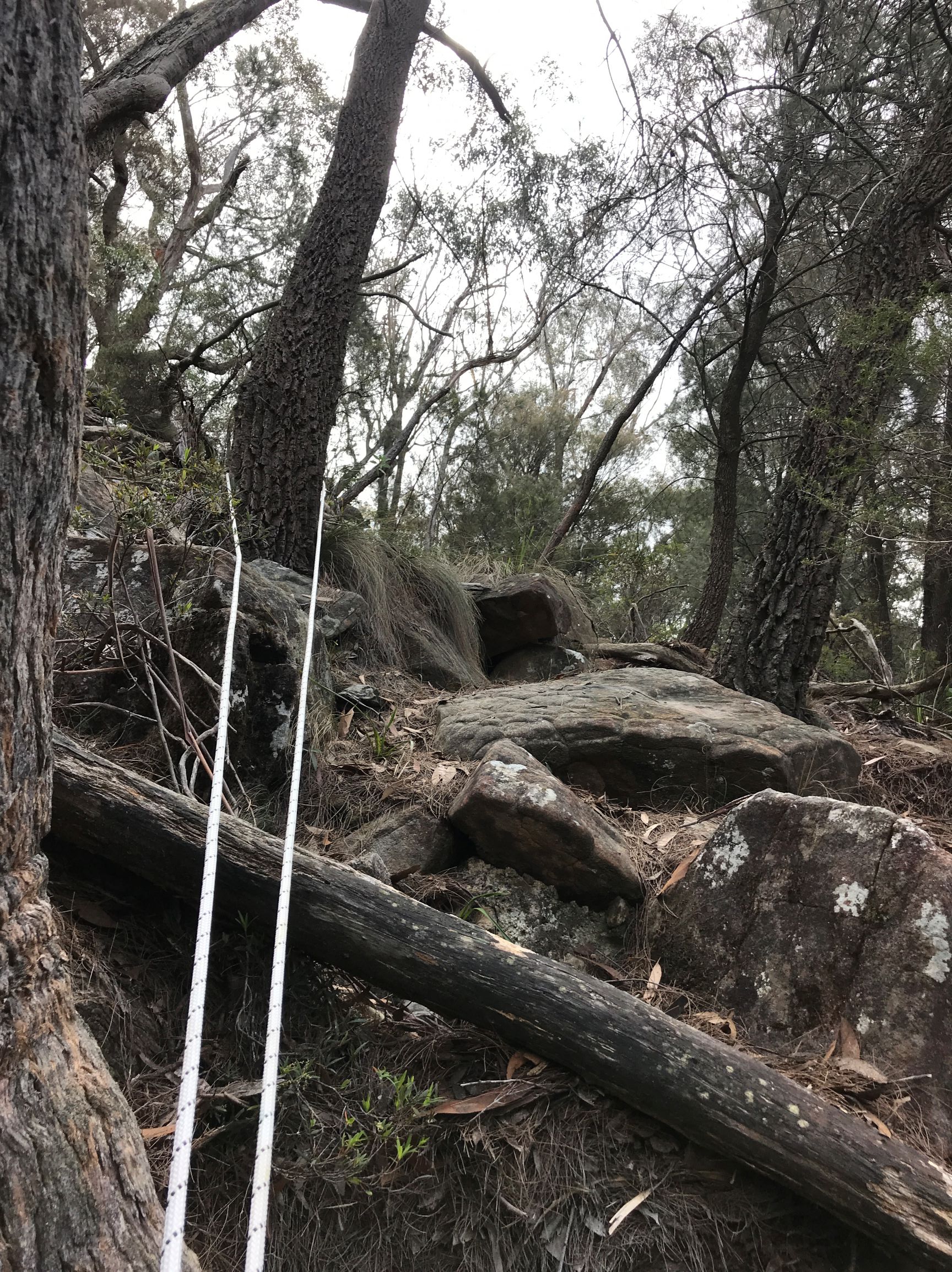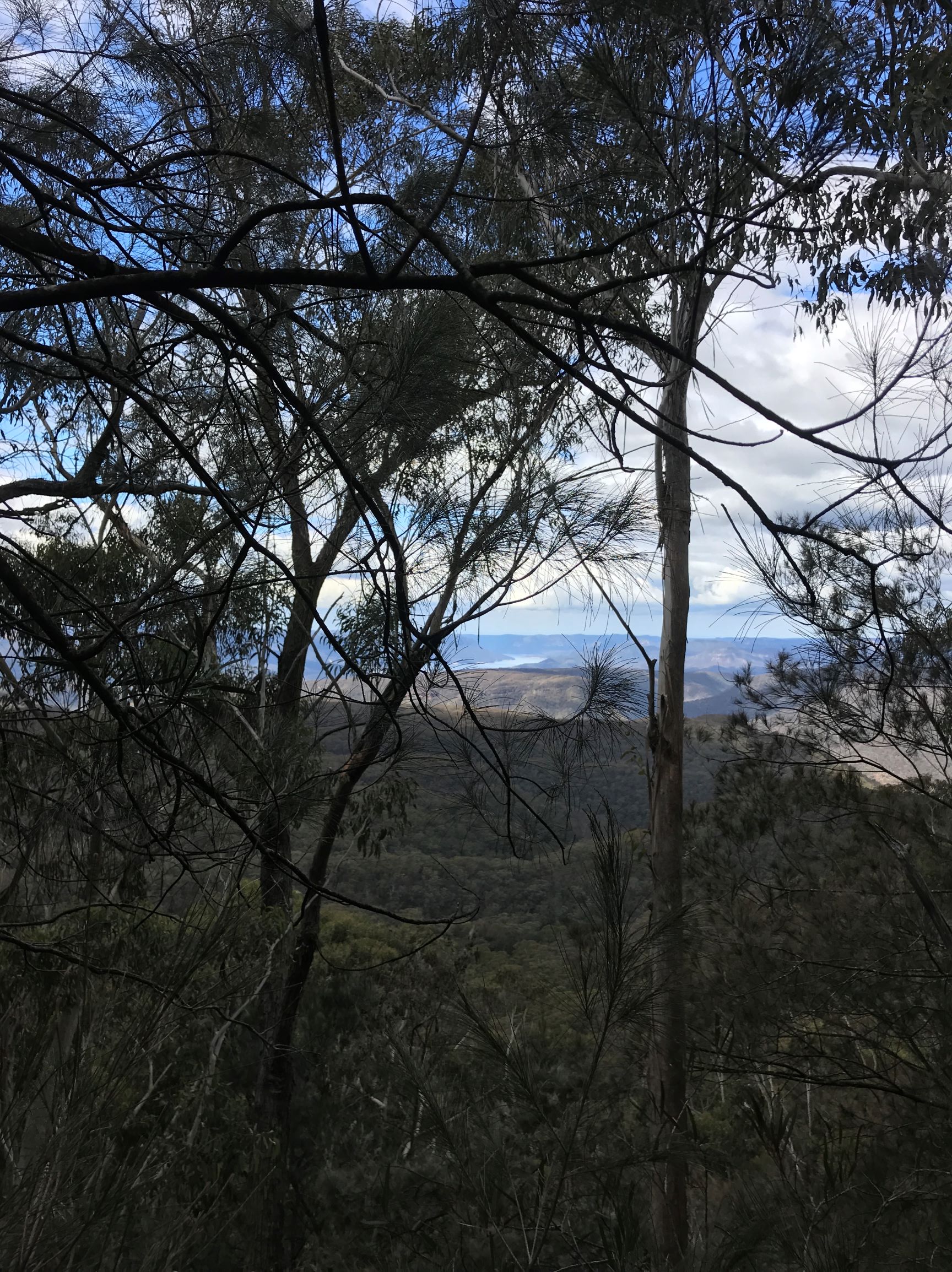 Nearly two and half hours later we finally had our packs back on and were setting out for home. The handline came in handy again later at the north eastern escarpment where the track drops over the edge of a few tall rocks. I promised Pascal these would be the last big rocks and we continued out to the fire trail making it there around 14:30.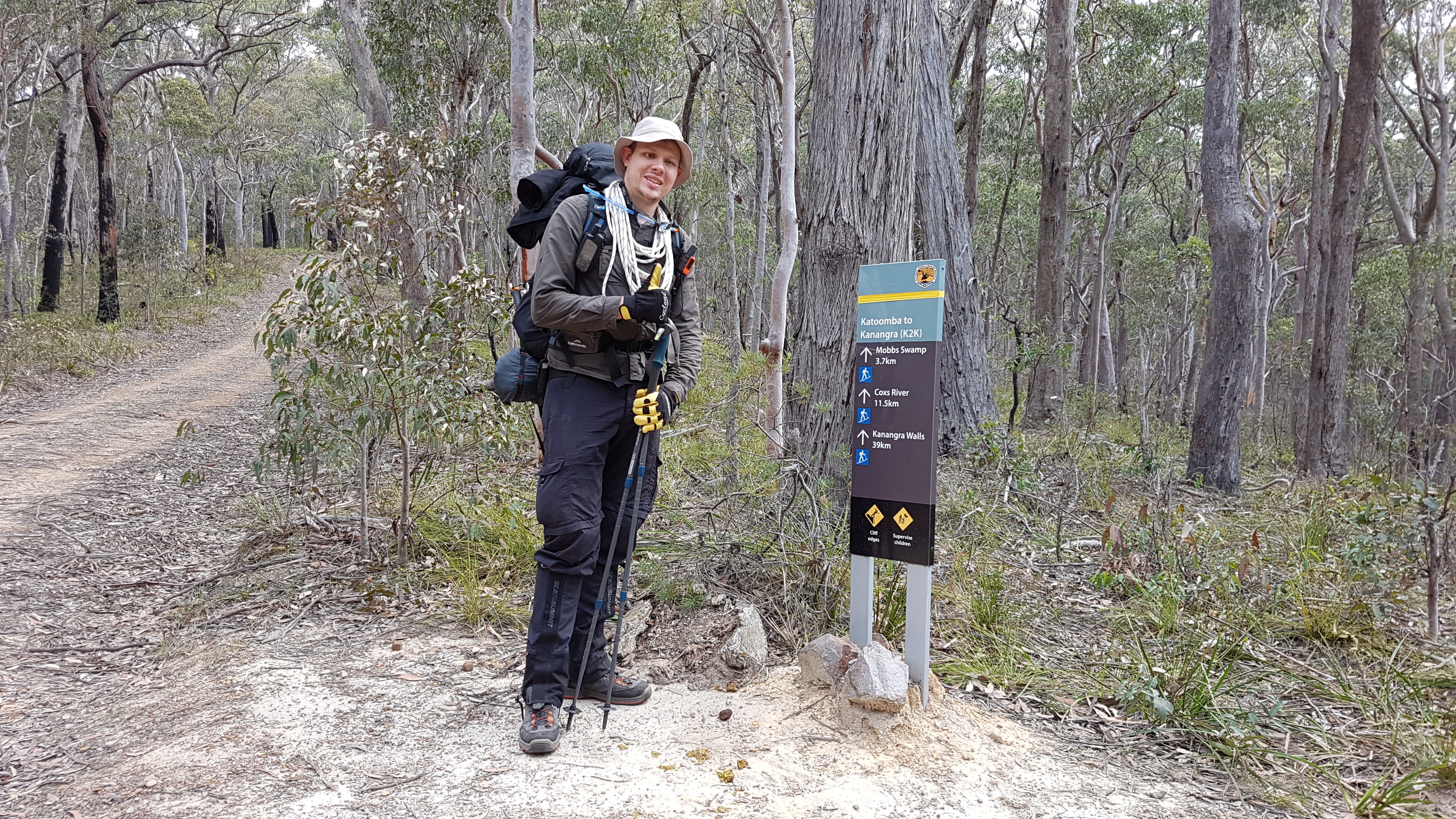 We arrived back to Dunphys campground at 16:45 finding the land cruiser left abandoned by all other campers. Only the kangaroos to keep it company. No sooner had we come to a stop and the sky opened up again. We decided our timing was impeccable and wrote it up to a perfect end of a long, but very successful trip.
If your interested in the track log you can find that over at Ozultimate.
Next up, either Mount Cloudmaker VK2/CT-015 or Mount Cookem VK2/CT-102 then on to a long slog through the tangle of summits around Yerranderie.
Sadly VK2/CT-100 is firmly in the exclusion zone around Lake Burragorang along with VK2/IL-010 and VK2/IL-011. Fortunately we don't need to figure out how to carry in enough water to get there and back!
73's
Sam